Hello bloggers on WordPress! Is your Gravatar updated?
Within the WordPress stats page, there is a section called "Referrers." Some of the beautiful people who find your blog clicked on one of these site links to find you. Nearly every day I see the link http://en.gravatar.com/karenkubicko, my personal Gravatar page, listed as one of them.
What is a Gravatar? See that cute little square … near your name … on WordPress (and other sites)? That is your Gravatar. The Gravatar website describes it as such: "Your Gravatar is an image that follows you from site to site appearing beside your name when you do things like comment or post on a blog. Avatars help identify your posts on blogs and web forums, so why not on any site?"
I happened upon it by accident one day, early in my blog writing endeavor. I clicked on someone's image that commented on one of my first few posts. Instead of linking to their blog (which is what I was hoping for, really) I was sent to a non-descript page with just a picture. No blog. No links.
Then it dawned on me.
Wait a minute. If I like or comment on someone's blog and he or she clicks on my Gravatar image … I want them to find my blog post, not just my image. (I only blog on WordPress, so I am not sure if this applies to other blogging sites.)
I immediately clicked on my Gravatar and edited away. Under the "About Me" section, it allows room for a personal write-up. I uploaded my photo. I verified my Twitter and Facebook account. Under the "My Links" section, I added links to all my social media, including my blog, website, Facebook, Twitter, etc. It even let me update it with a custom background (my mandala of course).
This is great, I thought. What an easy way to list all social media on one cute little page. As an aspiring author, I was told I need followers.
Thank you, so much, for stopping by my blog. If you found me via my Gravatar, let me know. If you were prompted to update your Gravatar information today, let me know too (then I can find your blog and read some of your fabulous writings).
Now, I will try to meditate on which new photo to use. My sweet friend Rachel Aluise took so many good ones, I cannot decide. Here is just one …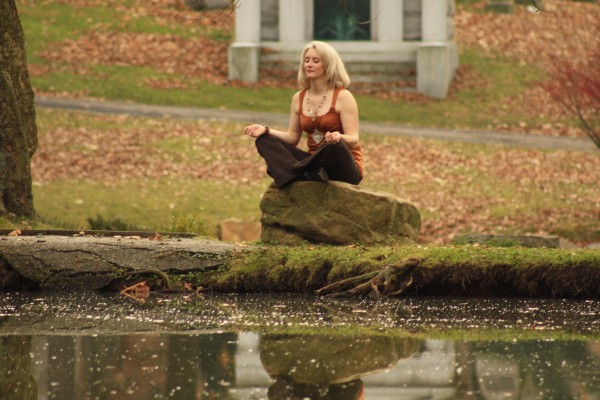 Related Posts:
Utilizing Pinterest by Writing Works in Progress
Gravatar use: by Writing Works in Progress