Months before I delved into my journey studying metaphysics, intuition and past life regression, someone spoke to me.
They said, "I need to talk to you."
I was alone late at night. These words were clear as day. I looked around and saw no one.
I thought I was nuts.
I said into the still of the night, "Hello. Anyone there?"
I am a night owl by trait. I enjoy the quiet of the night. Everyone in my house was sleeping.
Ten years later, after much personal work with my past lives, I believe the person who spoke to me is one of my spirit guides.
In the past two weeks I have been participating in past live regressions to elaborate on parts of the book I am working to write, Life Is Just Another Class—One Soul's Journey Through Past Life Regression. I wanted to see if I could walk into the beautiful light I see upon a past life death.
I can.
Once inside the light, I am able to talk to my spirit guides as though they are sitting next to me on the couch. It is the same as talking to my very best of friends. Their words are insightful, profound and extraordinarily supportive. Some of their words are so loving it moves me to tears.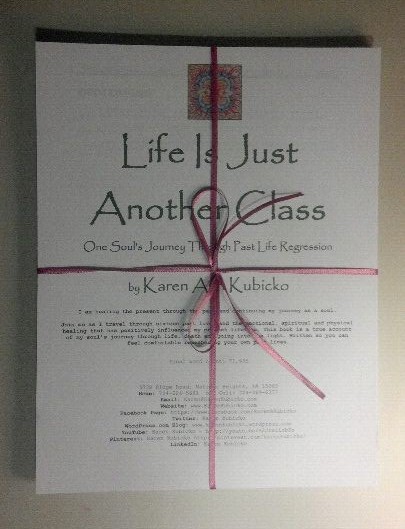 So far, I have talked with two of my spirit guides.
I have also talked with two of my council members when I enter the Education and Studies Building. They help me choose a new lifetime.
It took me ten years to get this far.
Through my recent work, I believe I am finally having the conversation they asked for so long ago.