For the love of caving!
I went spelunking the other day for 3 hours (just not long enough!) In the Laural Caverns cave, we traveled 41 stories below ground level. Climbing and crawling, getting dirty and wet.
It had just rained the previous night, so a gentle stream guided our way down into the belly of the Earth. Sometimes you could hear the trickle of the stream, sometimes it was so quiet you forgot it was there.
I felt like someone from the movie, Journey to the Center of the Earth.
Okay, well … maybe not anywhere near the same as the movie. But, this is a close as I will probably ever get. I certainly would not mind Brendan Fraser coming along with me. Sigh. He is such a cutie.
There were a few small waterfalls. It is kind of hard to see… but here is one of them.
.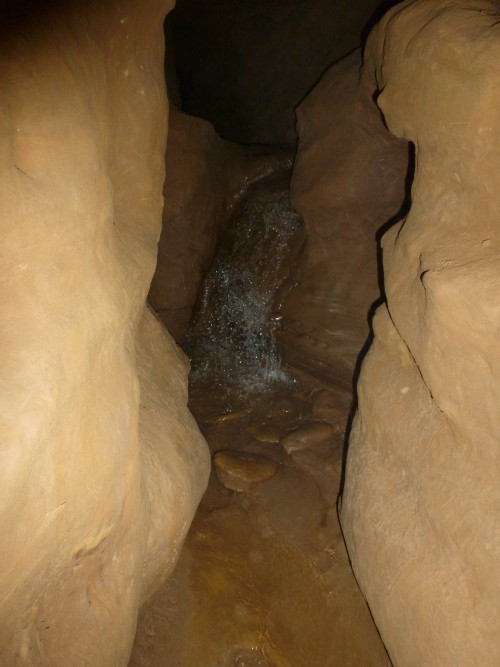 What a fabulous time! I want to go again already!
There is no comparison to the feeling of being sooo deep within the Earth. It was like being one with the Earth.
Peaceful.
Serene.
Tranquil.
One guest on the tour was getting visibly nervous as we started our tour. In fact, she only got 15 minutes into the trip. She said she was claustrophobic. I wonder, where does that fear stem … from some deep hidden past life possibly? I have yet to meet someone who can pinpoint their claustrophobia to a point in their current life. I felt bad for her as she turned around to go back.
Quartz sand lined the floor of this particular cave. It was so soft and smooth. The guide said that the minerals found in the cave were quartz, limestone and calcium. There must have been iron in the dirt as well, since it was tinted red. When I came out of the cave, I was covered in the reddish dirt.
After an hour of hiking over large boulders (I would not have wanted to be there when they fell from the ceiling of the cave!), we shut off our lights for a about 10 minutes.
It was very dark.
The purpose was beyond seeing how dark it can be without the sun, it was to have us use our touch, feel, and other senses to climb around an immense boulder. Everyone was bumping into one another, but laughing, it was a good time. What a great idea from a great guide!
There were names etched with the heat of old lamps used to walk through this cave. Some dates were from well over 100 years ago. Kindred spirits who love a good adventure I am sure!
I just wish that he allowed some time to just "be" in the cave. We were always moving along. Next time…